Regardless of their cultural background, every student in your class is likely to be familiar with fables. They are often one of our first introductions to the joys of storytelling. Of course, their merit lies not only in their huge entertainment value, but the fact that they are designed to teach us moral lessons.
In Western culture, the influence of fables, particularly those of that wily old Greek Aesop, permeate our everyday speech. Everything from Don't count your chickens before they hatch to Out of the frying pan and into the fire can be traced to the wisdom of fables.
Given they are generally relatively short, very entertaining, and students are likely to have some familiarity with them already, fables make excellent resources for improving literacy skills. Read on to get more 5 interesting ideas on how to incorporate them into your lessons.
1. As Sly as a Fox
Though fables can reveal to us much about human nature, it is interesting to note that the central characters are most often animals. This is true even in more modern versions of fables, such as George Orwell's Animal Farm. This anthropomorphism can provide a great in for some very fun writing activities.
Have younger children match personality traits to animals. This simple animal adjectives task consists of providing a list of adjectives and a list of animals. Students must match each adjective with the most suitable animal based on the fables they have been working on. You can further categorize adjectives in lists relating to size, shape, color, feeling, tone etc. This will open up learning opportunities for punctuation work too.
Differentiation Ideas:
Older students can undertake a similar activity, but incorporate their understanding of poetry techniques to write similes or metaphors based on the animals in the fables they have read. To broaden out their characters, students could also be asked to develop bios for each animal.
2. And the Moral of the Story is...
As mentioned, these pithy little tales convey morals to readers. Indeed, back in the days of togas and scrolls, the Greeks would use fables to teach their society how to live the virtuous life. Encourage close reading skills in your students by having them identify the moral of a variety of fables.
As many of these stories date back over 2,500 years old, copyright is unlikely to be an issue! You can find tons of free versions of Aesop's fables online. Print a selection off, organize your class into groups, give them copies of the tales, and set them the task of reading and identifying the moral of each one.
Differentiation Ideas:
This activity is easily differentiated by the language level of each version. There are numerous versions of Aesop's fables available for download online. Choose the version that best suits your class, group, or individual's needs.
For younger students, or students of lower ability, you may wish to provide the group with a list of morals from which they have to choose to match up with the appropriate fable.
3. Getting Your Ducks in a Row
Sequencing is very important in storytelling; in fact, it's very important in all writing genres. Having a firm grasp of the importance of good sequencing helps students organize their writing at the planning stage.
There are many possible variations of sequencing activities you can set your students. Very young students can be given a series of jumbled up pictures of scenes from a fable you have already read to them. They are tasked with putting the pictures in chronological order and sticking them onto a strip of paper. They can then use these as prompts to tell each other the story in their own words.
Differentiation Ideas:
This activity can easily be modified to challenge stronger students. For example, you may provide a set of corresponding captions that must be matched to the pictures before organizing chronologically. You can further differentiate by introducing non-conventional story structures such as In Media Res where a story starts in the middle. Students will likely have some awareness of this from its frequent use in the movies. Have them play with the sequence of events and try different starting points for effect. This can reap great creative rewards in their writing later.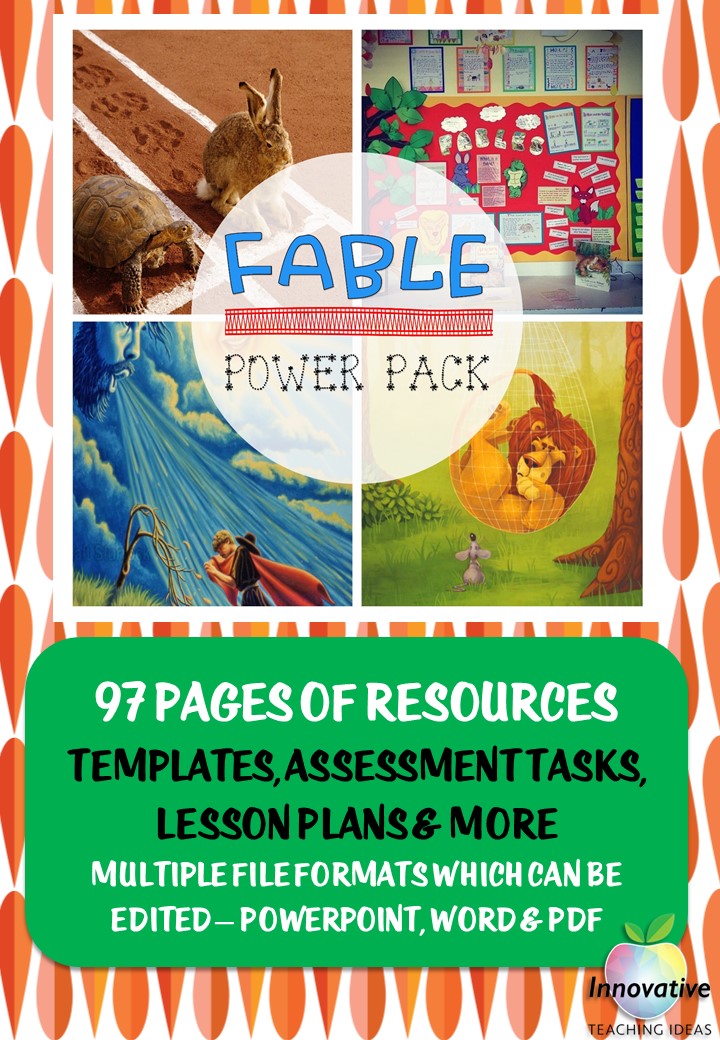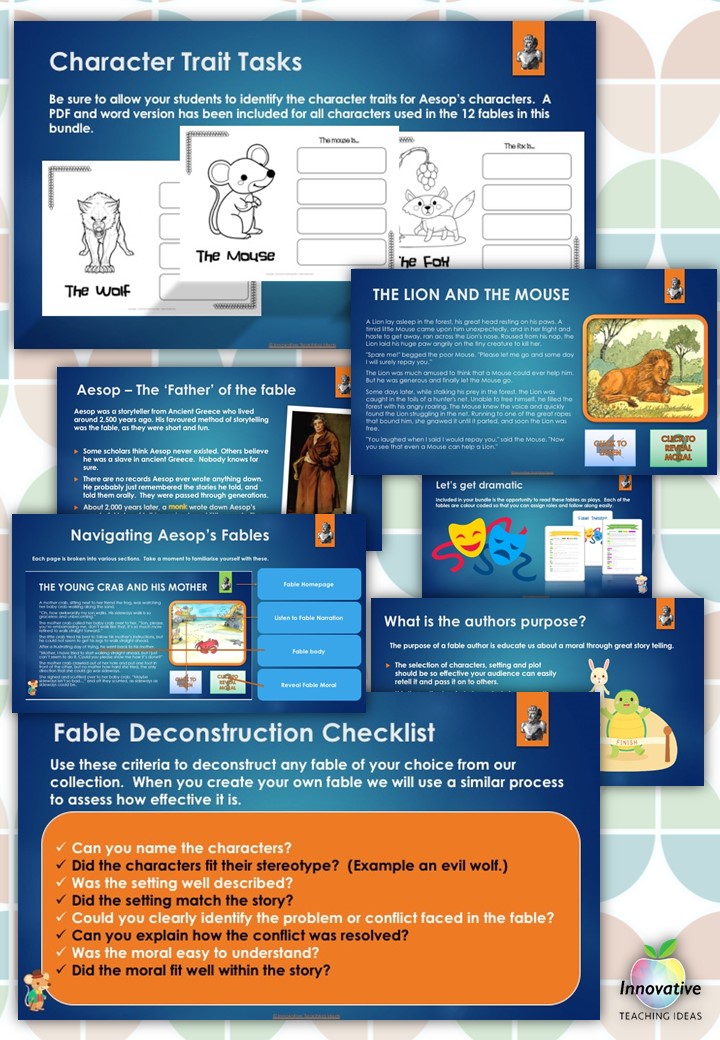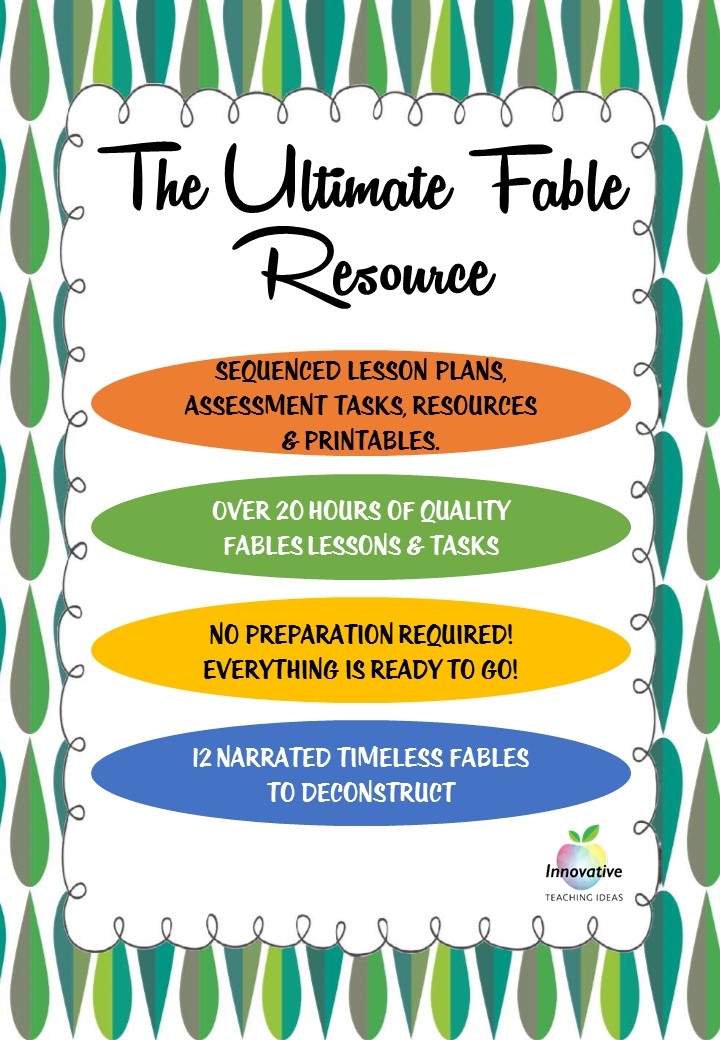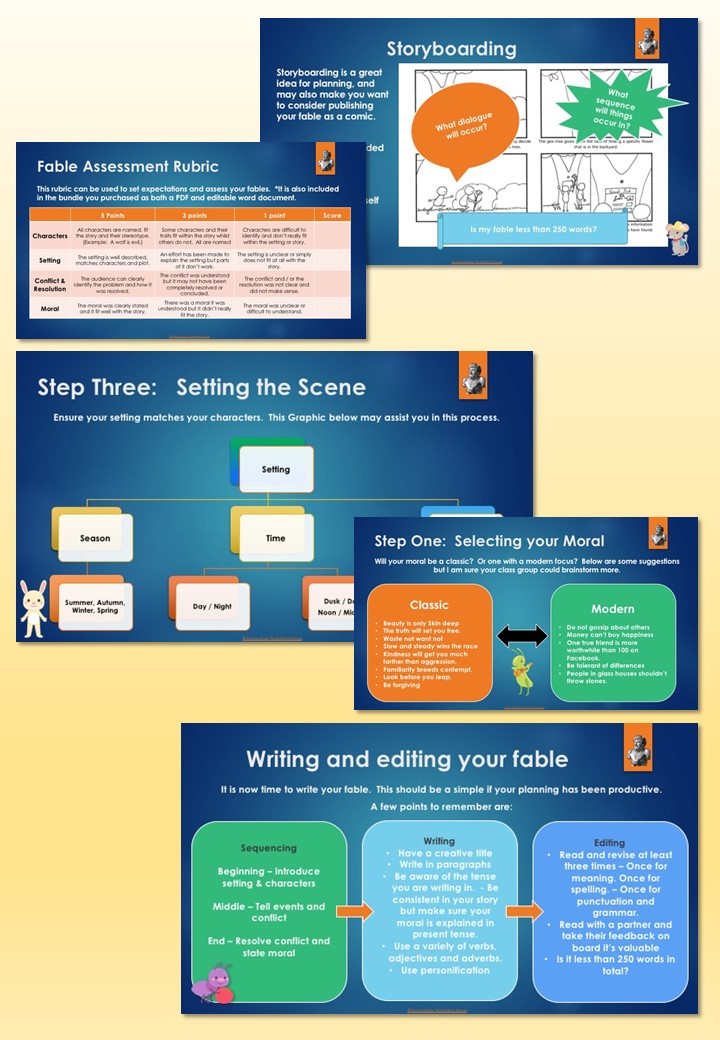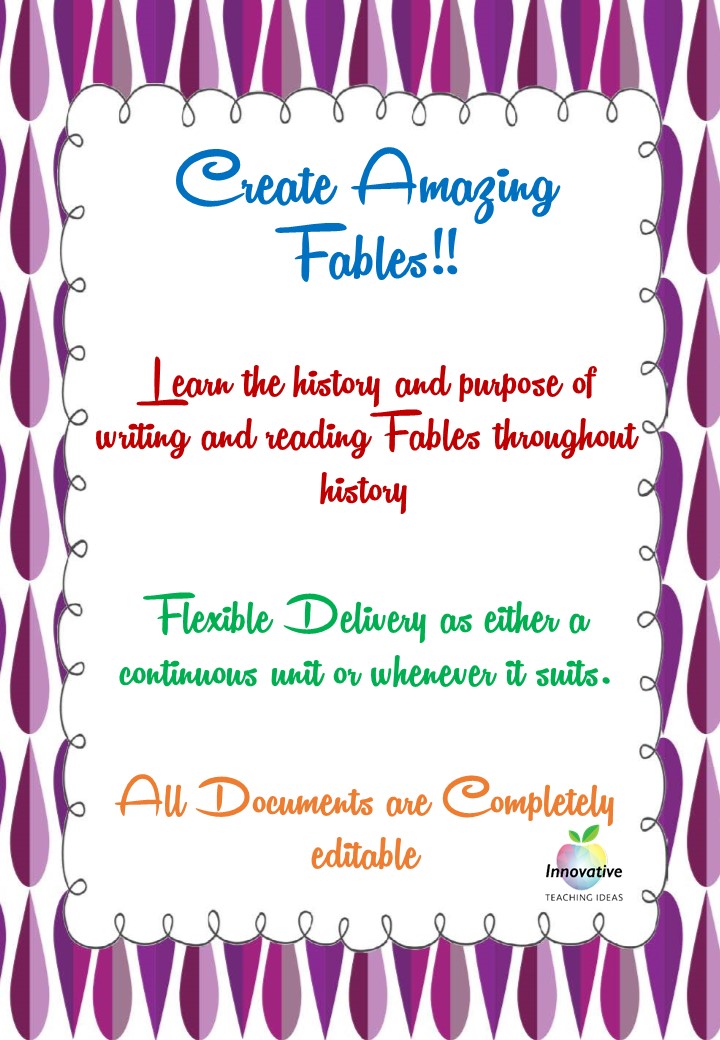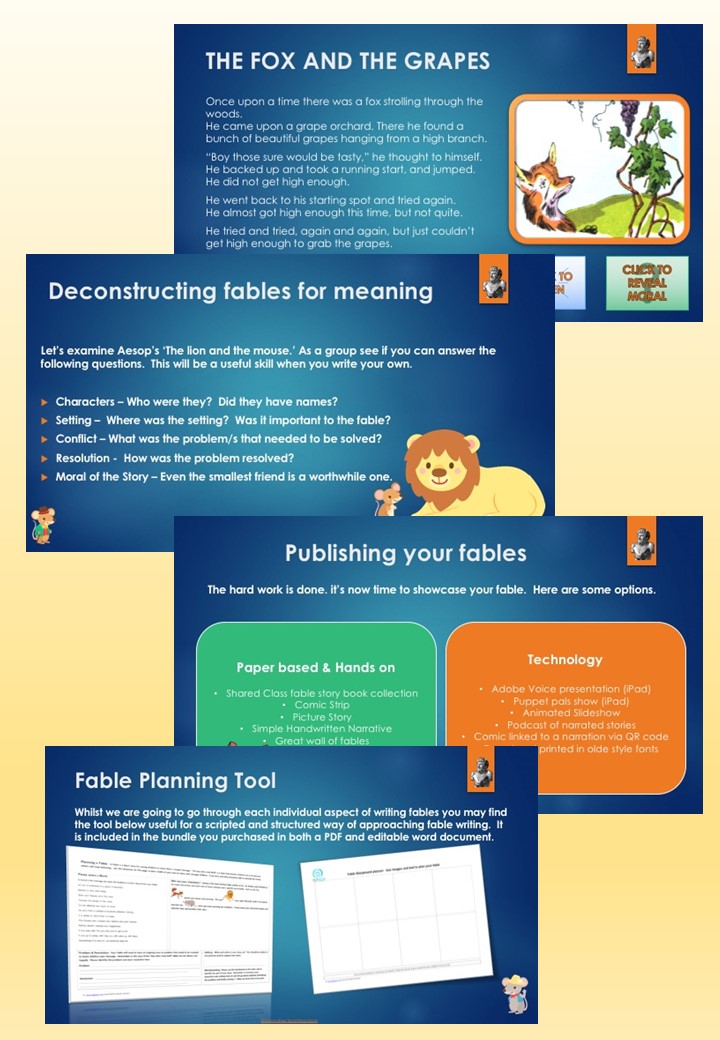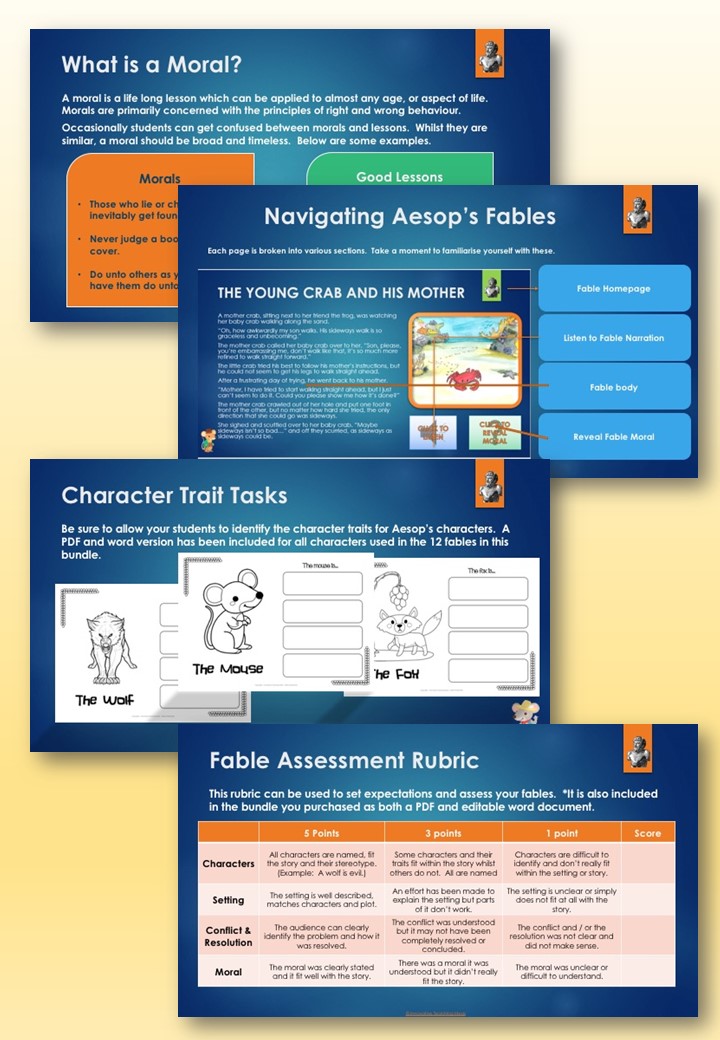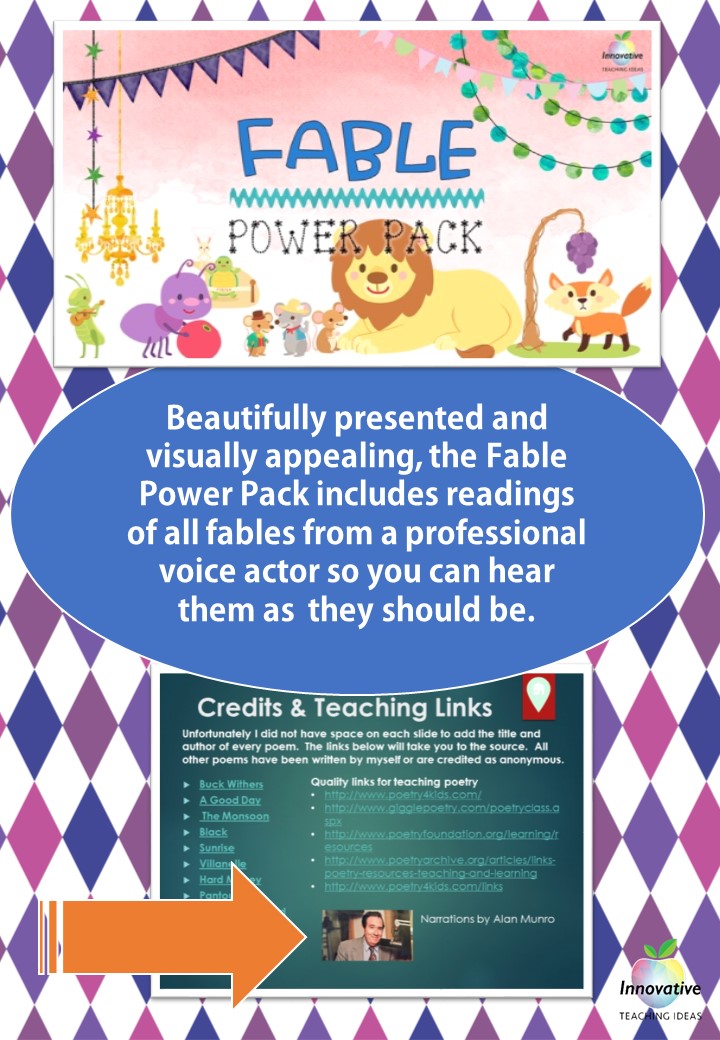 This HUGE BUNDLE offers a mix of hands-on, printable, and digital media resources. By the time you have finished this pack, your students won't just be able to READ and COMPREHEND fables, but will also be WRITING their own unique fables with structure and purpose. That's it's one our most popular products –Keeping kids excited and engaged for weeks as you work through...

✔ What Is a Fable and Its Purpose?
✔ Who Is Aesop, The Father of Fables?
✔ 12 Famous Interactive Fables by Aesop (Professionally Narrated)
✔ Scripted Fable Theater - Turn These Fables into a Drama Class
✔ Deconstructing Fables for Meaning
✔ Planning and Assessment Rubrics for Writing Fables
✔ Fable Writing Workshop
✔ Character Traits Worksheets and Activities for All of Aesop's Creatures
✔ Digital and Paper Based Resources for Publishing Fables
✔ Fable Glossary and Curriculum Links.
4. Divide and Comprehend!
Just as scientists can understand the inner workings of a frog by dissecting it, students can understand the inner workings of a story through the same process. Hopefully though, the magic of storytelling survives the process, unlike the poor frog!
Use a fable your students are very familiar with to teach the essential parts of a story: character, setting, problem,climax, and resolution. Discuss the characters in the story and have them identify the setting. Discuss the links between types of character and suitable settings. Broaden this idea out to other writing genres such as science fiction, westerns, and horror. What patterns can your students uncover about the relationships between characters and settings?
Now it's time to get scientific! In groups, have students draw a graph with time along the horizontal axis and action along the vertical axis. Have students plot the various parts of the story (introduction of the characters and setting, problem, climax, resolution) as points along the axis. The points should move from left to right as they occur chronologically in the story. The higher the point is, the more dramatic the action. This is a great way for students to see the physical shape of a narrative arc.
Differentiation Ideas:
A simple version of this activity may involve students simply plotting the points and labeling them introduction, problem etc. However, more advanced students can also write captions that describe the action at the different stages.
You may also wish to take the opportunity to make some cross curricular technology links here and have students construct their graphs digitally with a suitable software program.
5. Dragged Kicking and Screaming into the 21st Century
Though many of traditional fables date back to around 500 BC, they have survived due to the timeless nature of their messages and the generality of the characters and settings. Now your students have a good understanding of how they work, have them rewrite the fables for the modern day.
This will require them to get specific. Characters will become human and locations will be defined. This is a great way to reveal to students that the same theme can be given a number of different treatments; stories that seem markedly distinct can share an underlying moral.
Differentiation:
This activity can be differentiated by outcome, whereby more able students will produce more complex stories. While the less advanced students may stick tightly to the original, more advanced students may completely reinterpret the story with only the central moral remaining intact.
A Word in Summary and an Extra Idea or Two
The activities above can be used as one-off lessons or as a series of lessons exploring different aspects of fables: character, moral, sequence, and story structure.
There is also a lot of scope here for continuing work based on the initial fables. Time spent getting to grips with a story can be utilized in other genres and for other learning objectives too.
Perhaps you want to teach the writing of playscripts? You can teach the criteria for the genre and then set your students the task of adapting a fable to the playscript format.
To develop public-speaking skills, have the students engage in an oral retelling of a fable or make a dramatic presentation of the story. There are innumerable opportunities, but don't be in too much of a rush, for if The Tortoise and the Hare have taught us one thing, slow and steady wins the race...
This tool assists students to create engaging fables based upon the model we have been using for generations. It is best printed in a larger format so as your students can visually represent their ideas alongside written ones and is completely free and available here.
Great videos to teach students how to write fables